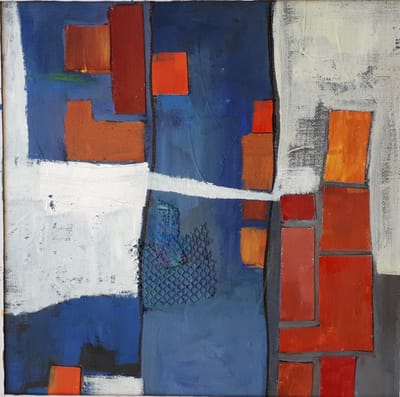 If you had asked the 15-year-old me what I wanted to be, I would have said "a painter". This was not because of any prodigious talent, but because I was a bit of an art geek, spending hours on my own, wandering round the National Gallery. Now, after a career in teaching and then in publishing (20 wonderful years at Oxford University Press), I am finally realising that teenage aspiration.
My work is usually figurative but driven by an obsession with colour and an exploration of the tension between the painted surface and the illusion of pictorial space. As a process, it's all about balance: not too many ingredients and knowing just when to stop, rather like cooking, that most wonderful of all human interventions. The Oxford Times has described my work as "glowing and exuberant" and that is something I try to live up to!
My art heroes include Paul Gauguin (an awful human being), Piero della Francesca, Barbara Rae and above all, Paul Klee. For Klee it was a visit to Tunisia that did it. "I have found colour," he said, "it has hold of me". For me it was India and in particular Rajasthan.
My work is in collections in UK, USA, France, Italy, and Australia. I show work in a number of galleries in Oxfordshire and exhibit regularly in Artweeks. I was the Chair of the Turrill Sculpture Garden and for some years on the Committee of the Oxford Art Society.
"It's not a matter of painting life. It's a matter of giving life to painting." Richard Diebenkorn